New 106-hectare Woolloongabba Priority Development Area Declared
September 29, 2023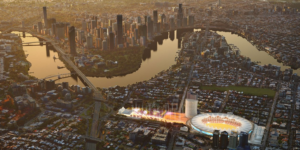 In a significant move that will shape the future of Brisbane's southern suburbs, the Queensland government has declared an expanded Woolloongabba Priority Development Area (PDA). This expansive urban renewal project will encompass a larger part of Woolloongabba, Kangaroo Point, East Brisbane, South Bank, and the Stanley Street precinct. The declaration, made by Deputy Premier Dr. Steven Miles, promises a transformative revitalisation that will not only bring about thousands of new homes but also create a vibrant, connected, and sustainable community.
Key Highlights:
A Larger Woolloongabba PDA: The new 106-hectare Woolloongabba Priority Development Area represents an expansion of the existing PDA, significantly increasing its scope. This expansion is seen as an opportunity to capitalise on Queensland's growth, particularly in light of the 2032 Olympics.
Affordable Housing: The Woolloongabba PDA project will include a remarkable 20% requirement for social or affordable housing. This commitment ensures that the community will have access to housing options that cater to a broad range of needs, including those of essential frontline workers.
Connectivity: One of the most exciting aspects of this declaration is the promise of improved connectivity. A walkable, active travel corridor will connect the redeveloped Gabba stadium to South Bank and the CBD. This vital link will provide better access for residents and visitors alike.
Green Spaces: The Woolloongabba PDA project places a strong emphasis on green spaces, with a commitment to creating 50% open space within the Cross River Rail and Stadium precinct. These green areas will not only enhance the aesthetic appeal of the region but also provide recreational spaces for the community.
Community Engagement: The declaration of the expanded PDA initiates a comprehensive planning and development process. An Interim Land Use Plan (ILUP) will be in effect for 12 months, allowing time for detailed planning and community engagement. The development scheme process will start, with community consultation anticipated to begin around April 2024, leading to the finalisation of the Development Scheme in September 2024.
No Resumption of Properties: It's important to note that existing houses and properties within the PDA are not being resumed. The PDA's primary purpose is to streamline development approvals and create a consistent vision for the area, while existing development approvals remain unaffected.
Deputy Premier Steven Miles stated, "We have a unique opportunity to capitalize on Queensland's growth and 2032 to create a thriving inner-city suburb. The larger Woolloongabba PDA will transform the area as the southern gateway to Brisbane's city centre."
Major infrastructure projects like the Gabba redevelopment, Cross River Rail, and Brisbane Metro are expected to bring significant investment to the area, leading to job creation and the expansion of housing options.
The declaration of the new Woolloongabba Priority Development Area presents a promising future for Brisbane's south. As the planning and development process unfolds, residents and stakeholders will have the opportunity to provide input, shaping the future of this thriving inner-city suburb. With a strong focus on housing diversity, connectivity, and green spaces, this project is set to uplift the quality of life for all who call Woolloongabba and its surrounding areas home.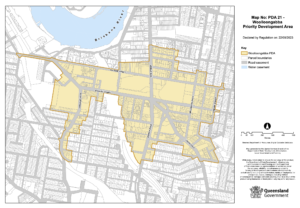 Source: Queensland Government State Development, Infrastructure, Local Government and Planning.