Brisbane's First Bridge Restaurant: A Unique Dining Destination
April 24, 2023

Brisbane's culinary scene is about to take a new turn with the announcement of the city's first-ever bridge restaurant. The Tassis Group, a major hospitality group, has won the hotly contested tender to operate on the Kangaroo Point Green Bridge, a city-shaping project by Brisbane City Council.
More than just a river crossing, the Kangaroo Point Green Bridge is set to become a must-visit destination for residents and visitors alike, leaving a lasting legacy for generations to come. The project features two unique riverside dining opportunities, including an above-water restaurant and bar on the bridge, and a new riverside café at the city landing plaza.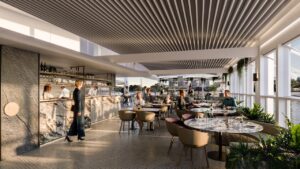 Set against the backdrop of the stunning Brisbane River, CBD, Story Bridge, and Kangaroo Point Cliffs, the two waterfront food and beverage opportunities promise to deliver a dining experience like no other, making them a quintessential part of Queensland.
The Tassis Group, which owns several popular Brisbane eateries, including Massimo and Opa in the city and Yamas in West End, plans to open an elegant noshery as well as a casual all-day cafe when the bridge is unveiled in 2024.
Bombora Restaurant
The upper-level restaurant, named Bombora after an Indigenous term for waves breaking over a reef, boasts a stylish design inspired by moving water and offers breathtaking views of the river and city skyline.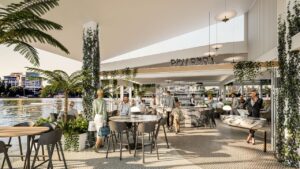 Mulga Bill's Cafe
The bridge-level café, Mulga Bill's, named after the Banjo Paterson poem, will serve casual fare such as wood-fired pizzas, creating a laid-back atmosphere perfect for a lazy afternoon by the river.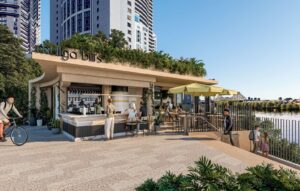 According to Director Michael Tassis, both dining establishments will offer a unique experience that cannot be found anywhere else. He also highlighted the Tassis Group's strong local ties and commitment to doing business in Brisbane. All service providers and contractors are based in Brisbane, delivering a 99% local supply chain.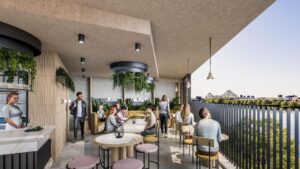 The Kangaroo Point Green Bridge promises to become a must-visit dining destination, with its breathtaking views, unique design, and delicious food offerings. And in a smart move, income generated from the dining venues will help fund the ongoing maintenance of the bridge, ultimately benefiting ratepayers.
The bridge's stunning restaurant and casual café will undoubtedly become a hot spot for tourists and locals alike, making it a valuable addition to Brisbane's culinary landscape.