Revitalizing Brisbane: City to South Bank
May 23, 2023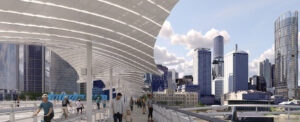 Brisbane, Australia's fastest-growing capital city, is about to witness a remarkable transformation of the connection between the CBD and South Bank. Lord Mayor Adrian Schrinner recently unveiled an ambitious vision to revitalise the area, focusing on decluttering Queen Street Mall, preserving Reddacliff Place, and improving pedestrian experience on Victoria Bridge. These initiatives aim to create a more vibrant, seamless, and accessible connection between the city centre and South Bank, providing long-term benefits for residents and visitors alike. Queen Street Mall and South Bank hold a special place in the hearts of Brisbane's residents and visitors, serving as must-visit destinations. As Brisbane has been recognised as one of the world's top travel spots and experiences rapid population growth, it becomes essential to enhance these iconic locations to accommodate the increasing demand and maintain their appeal.
Enhancing Walkability
One of the key elements of the City to South Bank Vision is the construction of a new shade structure over Victoria Bridge's pathway. This addition aims to provide year-round protection for pedestrians, ensuring their comfort while crossing between South Brisbane and the CBD. With the bridge witnessing a growing number of daily pedestrians, this enhancement becomes crucial, especially during the hotter months, to improve walkability and make the journey more enjoyable.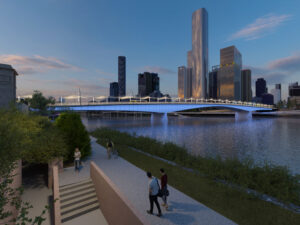 Preserving Reddacliff Place: A Public Space Gem
Reddacliff Place, cherished by residents for its incredible vista bridging the city and South Brisbane, currently faces the threat of redevelopment due to its private ownership. To prevent this loss, the Council plans to purchase the space, securing its preservation as a permanent public area. Reddacliff Place will continue to serve as a venue for open-air markets, events, and arts, fostering a vibrant atmosphere and allowing day and night activation to flourish.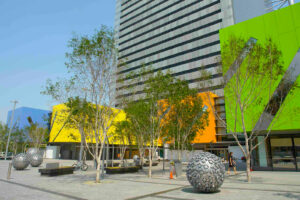 Removing Venues for Renewal and Greenery
To further enhance the Queen Street Mall experience, the Council intends to remove Milano's near George Street and potentially Pig 'N' Whistle near Edward Street. This move will create space for new shade structures, seating areas, and activation opportunities. Incorporating more trees and seating in these locations will contribute to the mall's sub-tropical ambiance, providing a refreshing and comfortable environment for shoppers and visitors.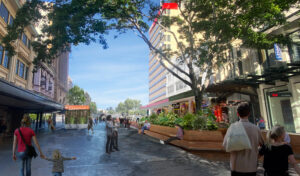 A Dynamic Mall Experience
Deputy Mayor Krista Adams highlights the continuous evolution of Queen Street Mall, which recently celebrated its 40th anniversary. As one of Australia's busiest malls, it attracts over a million pedestrians each week, proving its significance to the city. By replacing the existing venues with new offerings, such as licensed activation areas, the Council aims to introduce a variety of exciting vendors and experiences. From pop-up gin bars to tasting breweries and food trucks, visitors can expect a dynamic and ever-changing mall experience.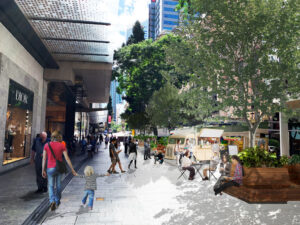 Brisbane's City to South Bank corridor is on the cusp of significant improvements under the visionary plans unveiled by Lord Mayor Adrian Schrinner. With a focus on decluttering Queen Street Mall, preserving Reddacliff Place, and enhancing pedestrian experience on Victoria Bridge, these initiatives will undoubtedly elevate the city's vibrancy and appeal. As Brisbane continues to evolve as a top global destination, these enhancements will ensure that residents and visitors enjoy a seamless and captivating journey between the city centre and South Bank, cementing the area's status as a must-visit destination for years to come.