Revitalising Brisbane's CBD: The Next Phase of Waterfront Brisbane Project
July 14, 2023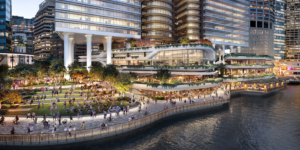 Brisbane's skyline is set to undergo a remarkable transformation with the commencement of the next phase of construction for the highly anticipated Waterfront Brisbane project. Spearheaded by Dexus, this landmark development aims to shape the city's future and create a vibrant hub in the heart of the Central Business District (CBD). As a significant milestone, the dismantling of the iconic Eagle Street Pier is nearing completion, making way for exciting new possibilities.
Since the project's initiation, more than 7600 tonnes of material have been cleared from the site, and an impressive 95% of that material will be recycled or repurposed. Demonstrating a strong commitment to sustainability, Dexus is leading the charge in responsible construction practices. By repurposing the materials from the Eagle Street Pier, they not only minimise waste but also showcase innovative solutions for sustainable development.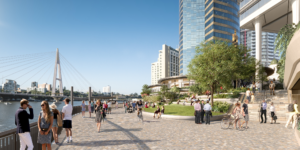 The occasion was marked by a special ceremony attended by Queensland Acting Premier Steven Miles, Deputy Mayor Cr Krista Adams, and Dexus Project Director Matt Beasley. During the event, new furniture made from the granite slabs, stainless steel balustrading, and timber decking of the Eagle Street Pier was unveiled. This unique furniture will find its place within the new Waterfront Brisbane precinct, offering a fusion of history and modernity.
Acting Premier Steven Miles emphasised the significance of this ground-breaking development in shaping the future of Brisbane. With the Brisbane 2032 Olympic and Paralympic Games on the horizon, Queensland is in the midst of a golden decade of opportunity. Projects like Waterfront Brisbane play a vital role in unlocking investment, generating employment opportunities, and elevating Brisbane's global profile.
Deputy Mayor Krista Adams echoed these sentiments and emphasised the project's alignment with Brisbane City Council's vision for the City Reach of the river. Waterfront Brisbane aims to breathe new life into the iconic Brisbane River, enhancing its connection to the city and providing vibrant retail and public spaces for both locals and visitors. The rejuvenation of the riverwalk is a significant aspect of this development, with plans to create a spacious, multi-functional pathway that spans at least six meters wide and up to 14 meters in some areas. The riverwalk will not only serve as a means of transportation but also incorporate a new riverfront retail precinct, bike and scooter parking, terraced lawns and gardens, and scenic viewpoints for people to pause and appreciate the magnificent river views.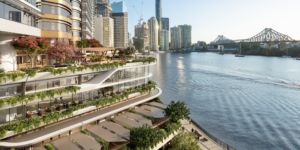 Waterfront Brisbane is projected to be completed in early 2028, well in advance of the Brisbane 2032 Olympics. Set to deliver a global-standard business and tourist destination that aims to maximise its prime riverside location with enhanced open spaces and amenity and a revitalised premier waterfront dining hub. Dexus's commitment to a significant investment in public infrastructure and open space aligns with the council's Rivers' Edge Strategy.
The approved design incorporates:
– two new towers with a combined 120,000sqm of office space
– enhanced retail offering
– substantial improvements to the riverwalk
– large public plazas opening on to the river
– a widening of the riverwalk to at least six metres for the full length of the site
– ramping to allow cyclists ease of access to street level